Preparing Your Home For An Inspection
The perfect home simply doesn't exist. Why? Well, in a brand new home, the contractor often is not aware of shortcuts taken by his subcontractors, and government building and code inspectors do not have the time or the budget to inspect everything in every home, so most government inspectors simply do a spot-check of homes in new subdivisions. A home that has been lived in usually has damage that occurred from simply living in it, or additions or remodeling that weren't permitted. That's why buyers need a professional home inspection.
The purpose of a home inspection is to document the overall condition of the property at the time of the inspection and to ensure that its major systems and components (water heater, heating and cooling, plumbing, electrical, etc.) are installed properly and working properly. The home inspection is not a warranty since the home inspector is only there for a couple of hours and never saw the home or its systems being built, so he has no idea about any quality control processes. While some items identified during the course of a home inspection might seem like minor items individually, collectively they could add up to major headaches involving both time and money. If sellers know what to look for, they can resolve many minor items before the buyer's home inspection.
EXTERIOR:
Make sure all the dirt and landscaping material is away from the siding of the house.  There should be 4-6 inches of clearance beneath the siding of the house.
Plant growth should be cut back away from the house at least 10-12 inches.
Any stored items should be moved as far away from the structure; stored firewood in particular should be moved as far away from the house as is reasonable.
Check the siding and trim for any damages and repair as needed.
Repair any missing caulking around doors, windows and over nail heads.
Make sure all exterior doors and door knobs/deadbolts are operating properly.  You may wish to repair any damaged weather stripping.
ROOFING & GUTTERS:
Clean all moss and debris off the roof.  Use a pressure washer only if absolutely necessary.  A broom or blower is preferred.
Repair any damaged or missing roofing.  Avoid using mastic or caulking as a repair as it is considered a temporary repair only and may be called out by the inspector.
Clean out gutters and repair any damages to the gutters such as rust through or sagging.
Make sure all downspouts are properly diverted away from the house, either with elbows and splash blocks or drain lies.
GARAGE:
Check the garage door opener and adjust it as needed so it properly reverses against pressure.
Make sure the garage door itself is operating properly and repair as needed.
If the home is newer with solid core, self-closing door to the interior, make sure the door closes and seals properly by itself, with the weather stripping intact.
KITCHEN, UTILITY, & BATHROOMS:
Check for leaks under the sinks and around the faucets, repairing as needed.
Look for possible floor damage around toilets and adjacent to tubs and showers.  If found, damages may need further evaluation by a contractor.
Make sure that all grout and caulking is in good repair.  This includes tub and shower surrounds along the floor in front of tubs and showers.
Check to be sure all fixtures, fans and appliances are working properly.
INTERIOR & ATTIC:
Check interior doors and windows to make sure they are operating properly.  This is particularly important for bedroom windows.
Make sure smoke detectors are in place and functional.
Remove any stored items from the attic space.  Check to be sure all fan ducts are properly connected and venting outside the attic space.  Repair if not.
ELECTRICAL:
Make sure all light switches are functional and any burned out lights are replaced.
PLUMBING:
Check your water heater for any leaking or damage.  If present, repair or replacement may be needed.
If missing, install proper rated earthquake strapping to water heater.
Make sure the water heater pilot light is on.
Repair any plumbing leaks found in the crawl space.
HEATING & COOLING:
Inspect your furnace filter and change, or clean, if dirty.
Regarding air conditioning, make sure all debris is cleaned away from the exterior compressor.
Regarding a gas-fired appliance, which utilizes a pilot light, such as a gas log fireplace or older furnace, make sure the pilot light is on.  The pilot light may have been turned off for the summer or if the house has been vacant.
CRAWL SPACE:
Remove any wood, concrete, form wood and cardboard debris.
Remove or replace any damaged, fallen floor insulation.
Make sure crawl space is fully covered with plastic.  Only use 6 mil black plastic, if adding more.
Reconnect any disconnected heat ducts.
Repair any damaged foundation vent screens and make sure all foundation vents are clear.  Use only 1/4 inch galvanized hardware cloth for repair.  Don't use any louvered type vents.
Negotiation Tips for Buying a Home After a Home Inspection
Chances are that you have stumbled across this article because you are looking for negotiation tips for buying a home and you are in the process of doing so. Buying a home can be an incredibly exciting yet scary time and negotiating with the seller can seem nerve-wracking and feel intimidating. However, this guide is meant to help demystify the process of negotiating with the seller when you are looking to buy a home after you receive the report from a home inspector.
Home inspectors are charged with describing the home's present physical condition and indicating in their report which components, parts, and systems might require major repairs or need to be replaced altogether. No matter what an inspector discovers during a home inspection, a home cannot technically pass or fail an inspection.
We would be remiss if we did not explain how a home inspection differs from a city or municipal inspection since these inspections are meant to help determine whether or not a home is in compliance with local housing and building codes. Additionally, a home inspection is distinct from an appraisal, because an appraisal is meant to determine a home's fair market value
Common Issues Uncovered With Home Inspections
The following are issues that frequently show up during home inspections so do not be surprised if you see them listed in the report you receive from your home inspector.
Issues With The Heating Ventilation Air Conditioning (HVAC) System
Common HVAC problems might be related to maintenance, outdated or incorrectly sized systems. Your general home inspector should be able to give you an idea about the age of the existing HVAC system. But if you are looking to learn more about the HVAC system, the condition it's in, whether or not it has any issues, how much it might cost to replace, and how much longer it might last, you would need to hire an HVAC specialist to inspect your HVAC system and do a separate HVAC inspection.
A Seller's Guide to the Home Inspection Process
For sellers (and first-time sellers in particular) home inspections can be frightening. What will the inspector find? What impact will a potential defect have on the sale price? Will the seller back out? Am I being treated fairly? These are questions everyone asks, so you shouldn't be alarmed.
You can't choose things you can control, but there are certain facets of the process you can influence. In the guide below, we'll explain what the home inspection process entails, how you can prepare your home for the inspection, and what to do if you get negative results.
An Overview of the Process
The challenge of the home inspection process is that so much rides on the outcome. The seller is almost always biased; he or she believes the residence is in better condition than it probably is. However, no buyer wants to purchase a house that has certain defects and issues. "There's a huge psychological dynamic that happens in this whole process,"
"The buyers are making a big purchase and they're obviously going through a whole host of emotions, and then you've got the inspector there, and it's their job to deliver up to the buyer's expectations. There could be problems the seller isn't even aware of that could impact someone's decision to buy the house."
To give an idea of what the process looks like, here's how home inspections tend to roll out:
The buyer places an offer and the seller accepts.
The buyer's offer is likely to be contingent on the home passing a certified inspection.
In most cases, the buyer's lender will order the home inspection.
The home inspector will set up a time with the seller that works for his or her schedule.
The actual inspection lasts between three and four hours, and the inspector will examine both the interior and the exterior of the home.
The inspector isn't looking for perfection. Normal wear and tear is expected for any home that's a few years old. What the inspector is looking for are serious issues that may affect the safety, functionality, or overall appearance of the home.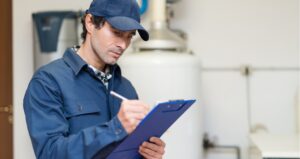 Home Inspection Checklist: Your Guide to Getting the Most from an Inspection
Your home inspection is a great opportunity to understand the condition of the property you're buying. You'll have a professional home inspector as your guide, but it's helpful to have an idea what to look out for. Both you and your real estate agent should attend the inspection so that you can follow along and learn about your new home
We've put together a handy home inspection checklist to give you an idea of what to expect. Roof: Let's start from the top, literally. The inspector will look at the condition of the roof. If he notes that it may need to be replaced soon, you may want to negotiate with the seller to take this into account. Foundation: At the opposite end of the house, the inspector will look for cracks in the walls both inside and out that could indicate problems with the foundation. Electrical System: Do the switches work? Is the wiring up to code? Fans, light fixtures, circuit breakers and outlets will also be eyed. Plumbing: Visibly damaged pipes or leaking pipes are a red flag. The inspector will also check to make sure the hot water works and the toilets, sinks, and showers are functioning. Lawn: Drainage is a key issue here. Driveways and sidewalks are also on the list. Heating and Cooling Systems: These will be checked for functionality and safety. Appliances: If these come included, the inspector will note their age and condition. Exterior: How does the paint or siding look? Are the gutters firmly attached? Do exterior lights work? Basement and Attic: These will be checked for any signs of leaks or dampness. Insulation and ventilation will also be checked
Once you've finished the tour, the inspector will send you a detailed inspection report. If it does uncover significant problems, you can always go back to the seller to ask to negotiate repairs. Almost any home will have some small issues, so focus only on the most significant ones that could be costly. Major foundation issues or a roof that need replacing are high on that list. And remember, your inspector can't catch every single thing that could be going on with your house.
He won't, for example, peel up carpeting or look behind walls. Things like toxic mold also aren't on his list. But you can often catch many of the most important issues with your house by hiring a good inspector and paying close attention to both his tour and follow-up report, using this home inspection checklist as your guide.
Disclaimer: The above is provided for informational purposes only and should not be considered tax, savings, financial, or legal advice. Please consult your tax advisor. All calculations and information shown here are for illustrative purposes only. All third parties listed above are for demonstration purposes only and are not affiliated
Must-Know Home Inspection Tips for Buyers
If you're buying a home, it's always best to get the home inspected before you close the deal. While the inspection will probably reveal more than a few defects, it doesn't mean its an immediate deal-breaker. Here's how inspections work and next steps on how to move forward after you have one.
In almost every situation, it is advised that anyone buying a home first request a whole home inspection prior to closing. It's important to understand what is — and isn't — included in a home inspection and your options for moving forward if — or more likely, when — defects are found.
How Home Inspections Work
When you decide to have the home you're buying inspected, you get to choose which company you use. If you don't have a reliable one in mind, your real estate agent likely has a company they use frequently and would recommend. As the buyer, you pay for the inspection and are able to (and encouraged to) attend the inspection in person.
The standard inspection evaluates the condition of the homes heating and air systems, interior plumbing and electrical, roof, walls, ceilings, floors, windows, doors, foundation, and structure. Plus, you may want to (or be required to) get additional inspections for things like pests, or radon. The report provided to you after the inspection should include detailed descriptions and photos of any defects.
Fixes You Can Make Yourself
It is rare that a home inspector finds absolutely nothing wrong with the house. In fact, if this is the case, you may question the thoroughness of the inspector. Finding some problems doesn't automatically mean you shouldn't buy the house, only that you may need to be address the defects down the road.