CHOOSING A METAL ROOF
There's a lot to be said for a metal roof's snazzy looks and top-notch performance. The right roof can liven the home's curb appeal and provide years of superior low-maintenance protection. Today's residential metal roofing comes in a wide variety of styles and designs. Metal roofing materials are not only light weight but can be very energy efficient. And unlike asphalt roofs, which require re-roofing every 15 to 20 years, metal roofs won't decompose. These roofs can withstand rain, fire, earthquakes and hurricane-force winds.
Although the initial investment in a metal roof is steeper than most other roofing materials, over time a metal roof can save a great deal of money and hassle. This is because there is no second investment in roof replacement, or the labor that comes with it. Metal roofs are practically maintenance-free, requiring only the occasional rinse with a garden hose. And most metal roofs come with a 30- to 50-year warranty. Insurance companies in certain states, like Texas, even offer discounts of up to 35 percent to homeowners with metal roofs.
What to Look For
When selecting a metal roof, first make sure the product's design is an appropriate match to your home's construction. Most metal roofs require solid decking. Many systems are frequently installed over existing shingle roofs. Some can be installed over lathe boards or over wood shingles on lathe. Some new products can even be installed over existing slate and asbestos roofs
Base Metal
Metal roofing is fabricated from a wide variety of metals, including galvanized steel, galvalume steel, aluminum, copper and zinc alloy—even stainless steel. The metals differ in properties, and the type used sometimes depends on the design of the roofing panel. Consider all the available options
Product Design
As metal roofing grows in popularity it also evolves in technology, giving rise to new products. As you consider your options, research the products' track record. Ask about the systems' flashings and accessories. You want a product with a history of solid performance. For example, inquire how the valleys are installed. If your area is prone to freezing temperatures, it might be smart to choose an "open" valley system that carries water on top of the roof rather than a "closed" valley, which carries water through channels beneath the panels. The hidden channels have been known to clog with ice and snow, causing accumulated water to infiltrate the roof system.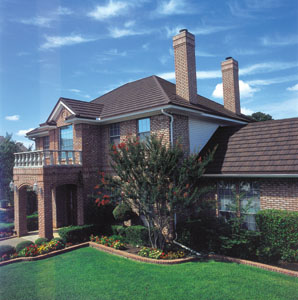 How to Pick the Right Metal Roof Color: Consumer Guide 2020
Choosing a color for your new metal roof is an exciting process, especially today, when you have more options available to you than ever before. However, it's important to not get lost in the abundance of available color choices! 😉 keep in mind that the color you choose will greatly affect the overall look and feel of your home
Quality of Paint Finish: Kynar 500 vs. Acrylic Paints
It is crucial to select a high quality paint for your metal roof that will stand up to the elements, while looking fresh and new for years to come. Make sure to choose a paint that has been treated with a special acrylic resin that blocks ultraviolet light. It will help prevent premature fading, peeling, corrosion, rust and water infiltration.
It is also possible to apply different types of coatings and sealants as an additional protective layer decades down the road, which will make the paint last longer, and will protect the metal from sun rays, moisture and mildew.
Style of Your Home
The color of metal that you choose for your roof needs to match the overall style of your home. Choose a color based on all the elements of your home's exterior design, such as the color of the siding, doors, windows, landscape, etc.
Achieve Desired Effects with Any Roof Color
Today, color choices available in metal roofing are virtually limitless, so it is up to you to decide what effect you want to achieve with the color of your roof.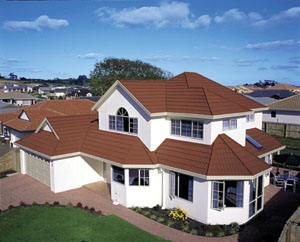 How to Choose A Beautiful Metal Roof for Your Beautiful Home
Choosing the right roof for your home can be a daunting task. Congratulations, if you've found your way to metal as the most versatile, sustainable, and protective roofing material available. But, now what? With so many options to choose from, we thought we would give you some insider information on how to choose the right, beautiful metal roof for your beautiful home
Style
One of the beauties of metal roofing is the wide variety of panel profiles (styles) which are available. Homeowners can choose from corrugated looks to true standing seams to shake, slate, shingle, and tile facsimiles. But which "look" is best for your home? While this is a matter of personal choice, not every profile "fits" aesthetically and stylistically with every house.
Scale
When choosing the right look for your home, it is important to keep "scale" in mind. For example, if your home is only 50' in width, using a 24" wide standing seam panel may be overpowering because you will end up with just 25 panels across the entire width of the roof. Likewise, a very "heavy" looking shake or tile profile may be too much for a smaller home.
Neighborhood
Keep your neighbors and neighborhood in mind when choosing a profile. You want to add to your home's value. This can be achieved by setting your home apart from others in your neighborhood in terms of distinction and beauty. However, accidentally making your home stand out like a sore thumb through the color or product you choose can detract from home value and also not enamor yourself to your neighbors
Choose a Roof Design Expert
The installer you choose for your roof should not only have an excellent history of roofing, but he or she should also have an eye for the design and know which product will complement the beauty of your home. In some cases, your metal roofing supplier may bring sample panels so you can see for yourself and have a better idea of what a particular product may look like on your home. Some metal roofing manufacturers offer "imaging" software that shows a photo of your house with different roof profiles and colors that can be superimposed onto your home. These things, along with the expertise and experience of your manufacturer, will help you make an informed decision on the profile and color that best showcases your home.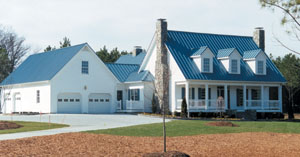 Metal Material Types: How to Choose the Best Material for Your Roof
Whether you're a contractor, installer, architect, distributor, or building owner, knowing the pros and cons of the most popular metal roofing materials can help you make the best choice for a structure's roofing project.
Whether you're in the market to purchase a new metal roof, a distributor trying to sell metal coils or sheets to customers, or a contractor dealing directly with a home or business owner, it's vital to know the pros and cons of different metal roofing materials.
Galvalume® Roofing
Bethlehem Steel introduced the Galvalume coating to the construction industry in the early 1970s. Galvalume roofing material combines three of the most important metals used in roofing today—steel, aluminum, and zinc. Manufacturers begin with a carbon steel base sheet, which is then continuously hot-dipped with aluminum and zinc alloys until it reaches a coating consisting of 55% aluminum, 43.4% zinc, and 1.6% silicone over the base metal to protect it from the elements. This system allows for one material to have some of the best characteristics of each included metal—making it one of the fastest growing materials in today's metal roofing market
Color Options – One of the most appealing aspects of Galvalume roofing, especially for homeowners, is the fact that Galvalume can come in an array of different colors. These pre-painted options allow for more versatility when buyers are trying to match the roofing to their home or business
Least Expensive – Compared to other high-quality metal roofing materials, Galvalume costs the least amount of money. Depending upon the thickness, color, and quality of the desired Galvalume panels, pricing could range anywhere from $75 to $250 per roofing square (100 square feet).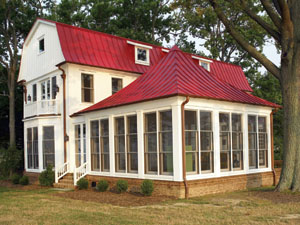 Important Information on Choosing The Right Metal Roof
If it is installed properly, metal roofing can provide an amazingly durable roofing option that goes beyond what traditional roofing methods can offer. Many people are coming to this realization, and metal roofing is as popular as ever. They do tend to cost more, but can in some cases provide up to forty years of life, which can be as much as twenty-five years more than other roofing systems. Deciding whether metal roofing works for a project, and what type of roofing would be best, many factors have to be weighed and considered. Here are some tips
Metal Type
Zinc, steel, aluminum, and copper are the main options with metal roofing. They all have their benefits. Steel and aluminum require special coating to provide the best protection. Copper is aesthetically pleasing and provides durability. Zinc is low-gloss, and resists corrosion. You must also factor in the thickness of the metal. It can vary between 3 to 30 gauge. The lower the gauge, the higher the thickness. That means that a low gauge generally means better durability, but it will cost more, sometimes up to $3500 a square foot. It can also be more difficult to work with since it is not as flexible.
Configuration
Metal roofing can be produced in sheets, either horizontal or vertical, and in panels. There are various connection methods to use for shingles that provide different benefits and drawbacks. These can include standing seam, batten seam metal, and through-fastened panels. Standing seams connect adjacent panels in a single or double fold. Through-fastened panels have washers and fasteners to connect them, and batten seam uses wood strips that are interlocked along with a metal cap to connect panels.
Insulation and Underlayments
There are a few underlayment options as well, including asphalt-saturated felt, self-adhering membranes, and synthetic sheets. You may need a slip sheet for between the roof and the underlayment to prevent them from sticking in hot temperatures.
Metal roofing should be a viable option when it comes to your project since it can provide so much versatility and durability. Be sure to consider all the factors to determine which type is right for your project.