Benefits of Laminate Flooring
So you're ready to update the look of a room with new floors. Or maybe you're thinking bigger, and want to change your entire home! Or office. Or business?
We're here to tell you – those all sound like great ideas! But at BuildDirect, we know comparing and contrasting different floors can be a pain. So, if you're not sure where to start, here's a bunch of benefits and reasons why laminate flooring might be the perfect solution for you.
Durability
Laminate is a strong, scratch-resistant, and highly durable flooring surface. Protected by a tough external layer and resin coating. It's great for high traffic areas and houses where there are pets and children. For general residential and light commercial use, be sure to choose a laminate with an AC rating of 3 or higher.
Price
Laminate flooring is less expensive than traditional hardwood, but doesn't fall short when it comes to look and quality. There's a great laminate flooring choice for every price range.
Subfloors
Laminate's versatile, and can be installed on nearly any type of subfloor, like concrete or even pre-existing vinyl floors. In many cases when the installation of a hardwood floor is not compatible with a subfloor, laminate flooring is a smart option.
Appearance of Laminate Flooring
One of the best benefits of laminate flooring is the variety of attractive styles. Laminate is made using a high-definition printer that creates almost any realistic design you can dream of. From hardwood designs to tile décor, laminate is available in a variety of colors and styles, not to mention a variety of textures.
Ease of Installation
Homeowners love laminate flooring because they can save hundreds of dollars on installation costs. With the tongue and groove locking systems, laminate flooring is designed for an easy floating installation that anyone can do – even people without a contractor license. Save money and hassle trying to arrange for professional installation.
Kid, Pet and Allergy Friendly
Kids and pets can be rough on floors. While no floor is completely safe from either, laminate flooring has a topical finish coat or wear layer that makes it resistant to scratching.
Laminate is also a favorite with homeowners who suffer from allergies. Dust and other indoor allergens such as pet dander can not penetrate the hard surface of laminate flooring the way it can cling to carpet fibers. Offering an affordable, attractive and allergy friendly alternative to hardwood floors is one of the many benefits of laminate flooring.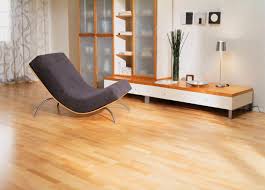 Maintenance and Repair
Laminate floors are easy to clean with a vacuum or broom. Mop with a slightly damp mop, or better yet, use laminate floor cleaner. No floor waxing is ever necessary for laminate floors. Avoid excessive water when mopping, which can seep into the seams between boards, causing swelling. Laminate flooring will not tolerate standing pools of water, which often appear in bathrooms, kitchens, and laundry rooms. For areas with heavy moisture, you need an impervious surface, such as vinyl or porcelain tile.
Laminate flooring has a wear layer that protects the photographic layer underneath and makes it somewhat resistant to scratches and dents, and very resistant to stains. Some manufacturers even issue very generous 10+ year warranties on the wear layer itself. If you do get a stain, it is usually easy to clean off.
The inability to sand and refinish is a major disadvantage of laminate flooring. If laminate flooring is heavily worn, deep scratched, or grooved, it cannot be sanded or refinished like solid hardwood—it must be replaced.
Cleaning Laminate Floors:
Do not use steam cleaners or wet mops, which may cause irreparable damage to your floor.
Use a damp cloth to blot up spills as soon as they happen. Never allow liquids to stand on your floor.
For tough spots, such as oil, paint, markers, lipstick, ink or tar, use acetone/nail polish remover on a clean white cloth. Then wipe the area with a damp cloth to remove any remaining residue.
Sweep, dust, or vacuum the floor regularly with the hard floor attachment (not the beater bar) to prevent accumulation of dirt and grit that can scratch or dull the floor finish.
Periodically clean the floor with cleaning products made specifically for laminate floor care.
Do not wash or wet mop the floor with soap, water, oil-soap detergent or any other liquid cleaning product. This could cause swelling, warping, delamination, and joint-line separation, and void the warranty.
Avoid using steel wool, abrasive cleaners, or strong ammoniated or chlorinated type cleaners.
Do not use any type of buffing or polishing machine on your laminate floors.
For spots such as candle wax or chewing gum, harden the spot with ice and then gently scrape with a plastic scraper, such as a credit card. Be careful not to scratch the flooring surface. Wipe clean with a damp cloth.
A more frequent dust-mopping or vacuuming schedule may be required in very sandy areas such as a beachside home.