(Unofficial) Side Effects of Going Through a Remodel
Everyone knows the symptoms of a common cold — sore throat, runny nose, watery eyes. But did you know that remodels also have symptoms and side effects? After decades of working in and living around the remodeling industry, I've observed that there are a few side effects that almost everyone in the process of a remodel falls victim to.
The good news is that I've dedicated the last few years of my life to studying these effects and have come up with some treatments to ensure you retain your sanity and health during your renovation.
Scope Creep
This is a sneaky affliction that affects a homeowner's budget and schedule. A common example of Scope Creep occurs when a homeowner sets out to remodel just one room in the house — let's say it's the kitchen.
A kitchen renovation is a simple enough project, and should be done quickly and easily. But then homeowners think to themselves, "But if we're painting the kitchen, won't the living room look dingy if it still has the old paint job? And with all this new cabinetry in the kitchen, the built-ins in the dining room will look outdated and out of place. Shouldn't we replace them too?"
Recommendation: If you have a little wiggle room in your budget and schedule, you might choose to embrace the creep. But if you're dedicated to sticking to your planned time and dollar investment, avoiding Scope Creep is a must. A great way to avoid the creep is the classic method of weighing pros and cons. If you decide that painting your living room is worth the extra investment, maybe a little creep isn't so bad. But if the cons of purchasing new cabinetry for the dining room outweigh the benefits, be firm with yourself and say no to temptation.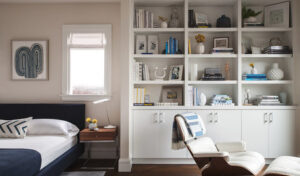 Things to Consider When Renovating a Condo
Renovating a stand-alone house and renovating a condo unit can produce similar-looking results, but the processes can be very different. Each renovation of a condominium space comes with its own limitations, possibilities and strategies, all of which you should consider before beginning a project — even before purchasing a space. To make sure you aren't hit with any unpleasant surprises, here are some things to consider before diving into your condo design project.
Know the rules. The first thing to understand before planning a condo renovation is the relevant policies of your condo board. Your board may or may not have policies that affect cosmetic decisions or material selections, but most likely it will have policies about what days and times renovations can take place, when materials may be brought into the building, which elevator can be used and so on.
Not checking on these logistical details in advance can cause massive headaches later when trying to schedule deliveries or tradespeople. Your board may require a permit or approval to begin any form of work.
Policies such as these are in place to keep your neighbors happy, so overall they are a positive thing. However, they can slow down a renovation process, so you should give yourself a long timeline. Discuss a projected timeline with a knowledgeable board member and your designer or contractor, and then add at least two months to the timeline so your expectations stay realistic.
Know who you're renovating for. Once you know what your board will and will not allow, you have to figure out who you're designing for. By this I mean whether you are renovating the space to add to resale or rental value, or to add to your personal enjoyment of your home. In some cases it is possible to achieve both. But realistically, a renovation usually will lean more toward one or the other, with different approaches for both, so it's important to decide which should take priority and be honest with yourself about that choice.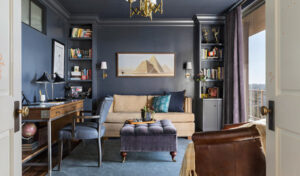 Data Watch: Renovation Industry Sectors Report Uptick in Business
A good portion of the renovation and design industry is feeling optimistic about its business prospects, according to the latest Renovation Barometer, released this week. The quarterly index tracks optimism among architects, designers, general contractors and remodelers, design-build firms, building and renovation specialty firms, and landscape and outdoor specialty firms.
Four out of six industry sectors reported optimism for the first quarter of 2017 in line with one year ago. Notably, the confidence of architects rose, after having dwindled the past several quarters. But confidence among building specialty and outdoor specialty firms dipped slightly for the time of year, perhaps due to stormy winter weather conditions. Labor shortages also are continuing to hold back some firms, particularly in the Midwest. Read on to get the latest pulse of the renovation market.
Labor shortages continue. Three out of 4 general contractors, remodelers and design-build firms reported moderate to severe labor shortages across a broad range of skilled trades. Finish carpenters are in shortest supply. General laborers are also difficult to hire.
Down about 635,000 employees. Between January 2007 and January 2011, a period of crisis for the housing market, U.S. residential building and remodeling firms and specialty trade firms (such as plumbers and carpenters) together lost about 1.35 million employees, according to the Bureau of Labor Statistics. These two sectors have gained back about 710,000 employees as of March 2017. But there are still 635,000 fewer workers than at the 2007 peak: 420,000 fewer workers in the specialty trades and 215,000 in residential building.
Architect optimism bounces back. After a few quarters of declining optimism, the Barometer reading for architects' sentiment about the state of their industry ticked up 12 points during the first quarter of 2017, to 66, compared with 54 during the last three months of 2016. (A reading over 50 indicates that more firms are reporting that business activity is higher than reporting it is lower, compared to the prior quarter.)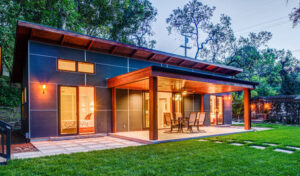 How to Write a Design Brief for Your New Home or Remodel
Before you can even begin to design your own home (or design anything for that matter), you need to establish a clear brief for the project. This is more than just a wish list — it covers all aspects of the project: size, appearance, location, orientation, sensory qualities, cost, construction methods and much more. Let's take a look at writing a brief in detail.
Your written brief will form the foundation of your entire house design. It is a description of your design objectives, which you will refer back to constantly and, as such, requires careful consideration.
The step-by-step process outlined below is the method I use to create briefs for every project I do. Whether you are designing a new house or extending an existing one, the approach is the same. Work through the steps, and by the end you will have not only a comprehensive and detailed brief but also a greater understanding of what it is you need rather than simply what you want.
Don't worry about getting it right the first time; there will be plenty of opportunities to refine it later. What matters is that you get everything out of your head and down on paper so that the project can start to move forward.
Compile a list of "likes" and then analyze them. The first step in designing your own home is to establish the sort of house you want to create and why. You should begin by collecting images of all the things you like and that speak to you about the type of home you want to create. I find to be the best tool for this because you can easily share your list and collaborate with other family members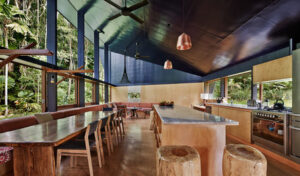 Sentences Your Contractor May Not Want to Hear
There are parts of every job, no matter what field you're in, that are just less fun than others. Building professionals pride themselves on doing anything and everything to make clients happy. But that doesn't always mean the builder is jumping up and down with excitement at every stage of a project.
When it comes to remodeling and home building, contractors will do just about anything to make you happy. They'll meet with you on short notice. They'll come up with creative solutions to your unique requests. They'll even clean your toilets if you ask (although maybe not for free).
"I reselected my plumbing fixtures." Most good contractors will harp on how important it is to get all your selections made as soon as possible. Some won't even start a project until everything is selected. It's a great practice, and it helps to keep your project going as smoothly as possible.
So if you come to your builder in the middle of the project and say, "Hey, by the way, I chose all new plumbing fixtures for the master bathroom," they might get a little nervous. Depending on what stage of work they're in and what you reselected, this could be no big deal. Or it could mean doing a lot of extra work to prepare for the new fixtures. Even worse, there may be a lead time associated with your new selections. This could cause an unplanned stop in work, which nobody (homeowners, subcontractors, builders, neighbors) likes.
"Can we hang this chandelier up there?" (Points to 20-foot-tall ceiling.) Why, yes! Yes, we can. I'll just be sitting in the corner biting my nails as I watch my electricians stand on massive ladders that I (the person with the fear of heights) would never set foot on, all while they hold and hang a massively heavy and most likely expensive chandelier. But, yeah, we can definitely do that. No problem.